Sponsored Athlete Profile:
Matt Cavanaugh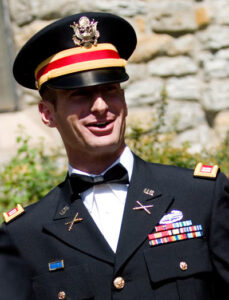 Matt Cavanaugh, PhD, is an active duty US Army Strategist who currently serves as the President of the National Kidney Donor Organization (NKDO). He is also a Professor of Practice with Arizona State University, a co-founder of and senior fellow with the Modern War Institute at West Point, and has twice earned the Bronze Star Medal, as well as the Combat Action Badge, for his service in Iraq.
Matt has been active in fitness and athletics his entire life, having been named the US Army Athlete of the Year in 2009. In 2022, the National Kidney Registry sponsored his greatest challenge to date—1K4D—his attempt to be the first living kidney donor to finish the full 4 Deserts race series in one year (called a "Grand Slam"). The 2022 series included races covering 1,000 kilometers across Namibia, Georgia, Chile, and Antarctica. Cavanaugh successfully completed his Grand Slam, becoming the first to do so on one kidney, months post-donation—shattering the misperception that kidney donation imposes physical limits on donors.
Donor Story: Matt donated his left kidney on September 15, 2021, to a stranger and started a donation chain. Unlike many donors who already know someone in need of a kidney, Matt simply learned how many are in need of a kidney, decided to donate, and placed a cold-call to Walter Reed National Military Medical Center in Maryland to volunteer. "When my life depended on it, someone came for me," he said, referring to his time in a 2003 military conflict. "Eighteen years later, I paid that moment forward. I was the cavalry. I saved someone's life, and then some."
Personal: Matt lives in Park City, Utah, with his wife Rachel, and their young daughters, Gracie and Georgie.
Matt in the News